How to Verify a link to Abacus Market?
Abacus Market is the only market offering a link verification service that you use to access the market.
For any user, it will be completely easy, follow the instructions below:
Step 1-> Hover the mouse cursor over the "Verify" section and click on it.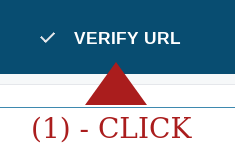 Step 2-> Paste the link from your URL string into the "Url to Verify" input field.

Done.
if you received a notification with the text: "You are using a legit Abacus url. Still, DO NOT trust ONLY in this tool, you MUST verify the PGP signed message manually to confirm the legitimacy of a link, as reverse proxy phishing sites can alter your request" on a green background, this means that your link is legal and you can safely use it.