How to deposit funds on Abacus Market?
Abacus Market isn't a wallet-less market. This is why buyers are required to deposit funds on the market in advance only then these funds can be used for making purchases.
Also, Abacus Market is a "Bitcoin/Monero-Only" marketplace. So, make sure you have Bitcoins or Monero before trying to make a deposit on Abacus Market.
Here's how to deposit funds on Abacus Market:
Step 1-> Go to your Market wallet. On your profile, at the top-right, you'd see a highlighted blue area showing your current funds. Clicking here will take you to your wallet.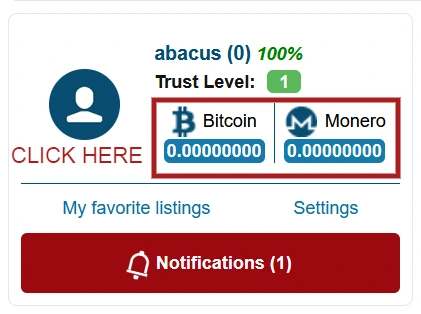 Step 2 -> The market will then instantly generate a Bitcoin address for you. It also generates a QR code. Simply make a deposit to this address.

Done. Give the market 20-30 minutes of time to validate your deposit. It requires 2 confirmations. Once that's achieved, the funds show up on your profile.
In case you're trying to withdraw funds, here's Abacus Market withdrawal process step-by step.