Registration Link: abacus2cmdqhvoei3oiwarxf5aukg32ru4y6g7vuphisgjd7xdq4xmyd.onion
Alternative Link (1): abacus2fagz2m4s7ncqsxyvi6bsqky5fiyggyr7cc77nhrjruc7bzvqd.onion
Alternative Link (2): abacus2hovutl2btic2vaytjqk7qsfa2g33xzhutp5oikskwysn7lryd.onion
This Abacus Market review will discuss how product-rich, secure, feature-rich the market actually is.
Being a very new market, we'll try not to be too harsh. However, rest assured, this Abacus Market review will be as honest, transparent and detailed as possible.
If you're anyone who's mourning the loss of Empire Market, Dark0de Market, ToRReZ Market, White House Market, Dream Market or just need a market which sells "hard to find" products, this Abacus Market review is for you.
Also, we've included links to step-by-step guides on how to get anything done on Abacus Market which should come in handy as well.
Note that this piece is purely for educational purposes. Do not go off buying/selling illegal goods on Abacus Market. That's not legal.
*This review is purely for educational and research purposes.
We haven't verified the legitimacy of the vendors on the marketplace.
Any action, both legal and financial, and all losses arising from this review, of any kind, are 100% your own responsibility
Guides for beginners:
I advise you to use this table of guides, where you will get answers to many questions that are contained in the articles of our authorship.
Abacus Market – Primary features
Before you commit yourself to this Abacus Market review, here's a glimpse of the marketplace in general:
Launched on: 15th December, 2021.
Cryptocurrency:

Bitcoin, Monero

Vendor fee:

$300.00

Multisig:

Yes, 100% and Partial FE (75%, 50%, 25%)

Autoshop:

No, Only Auto Dispath

Alternative Mirrors:
Security tips before accessing Abacus Market
It's not wise to access a darknet market without the proper precautions. Hence, make sure you're untraceable before you land on that URL. Here's how to do that:
Switch your TOR security from "

Standard

", to "

Safer

" or "

Safest

".
Download NordVPN and connect to its "

Onion over TOR

" servers. This is an additional protection layer that's exclusive to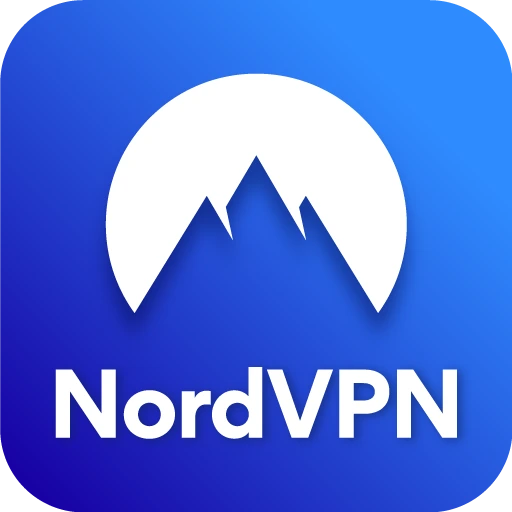 Make sure no other apps/programs are running on your system when you're accessing TOR.
If you don't know how to access the deep web safely then you need to check out my complete guide that will guide you, and will let you all necessary steps that will protect you one the deep web.

Also, read our disclaimer before you proceed on this Abacus Market review.
How Anonymous is Abacus Market?
Like any other darknet market, Abacus Market is on the dark web. Hence, it can't trace or log your actual IP address.
Also, hopefully you have the VPN running. Which also makes sure your actual IP address stays hidden.
More importantly, it has an automatic log cleaning policy. This means that all deposit/withdrawal histories are permanently deleted after 12 hours. This additionally ensures anonymity.
All in all, it's just as anonymous as any other dark web market.  The registration too is 100% anonymous. Here's a guide on how to register on Abacus Market.
How many, and which products does Abacus Market sell?
This actually is one of the most impressive aspects on this Abacus Market review.
The market had less than 19654 products a week back. Today? The total product stock stands at over 24292 listings! Also, these aren't fake-listings. We've verified the products to be actually listed on the marketplace. The increase in the number of products in a short time is associated with the unique function of Cloning Products from other markets!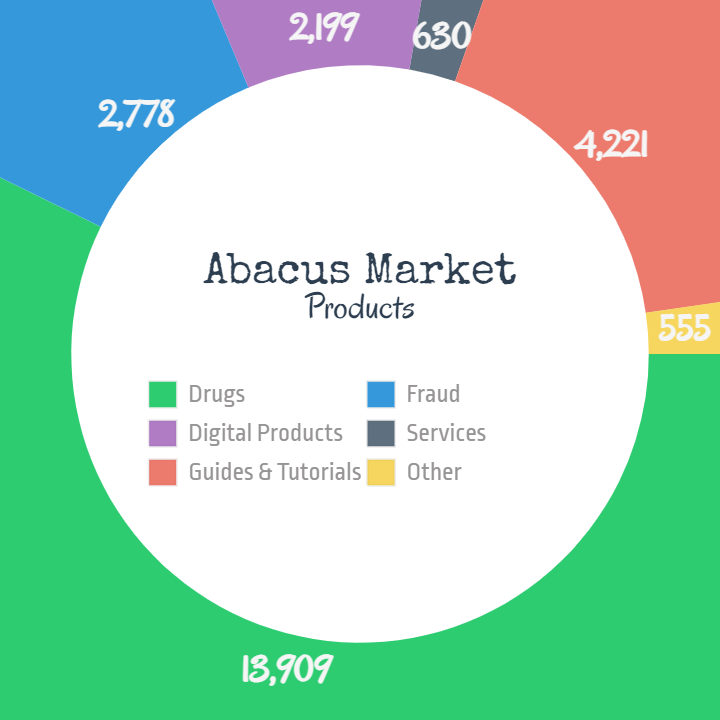 Without doubt, "Drugs" is the most well-stocked category. This one category has 13000+ listings by itself! We love how it has very narrow categorization. Meaning, Drugs has Cannabis, and Cannabis further is classified into Hash, Buds and flowers, Concentrates etc.
The next most product-rich category is the "Guides & Tutorials" with 4221 listings. It sells social engineering training, books about hacking, carding methods, etc.
The Fraud section has 2778 items listed. As the name hints, it sells bank logins, dumps, login data for other accounts etc.
Digital Products is where a buyer can buy software, guides, exploits etc. Currently, it is growing very fast, do not miss to find the product you need.
Abacus Market can also be used to order services such as hacking, carding, fake documents etc.
Does Abacus Market sell guns or illegal porn?
No. A majority of people believe darknet markets to be a hub of the most illegal goods. Which is true to an extent, but, not entirely.
Abacus Market doesn't allow the trade of prostitution, underage porn, murder services, poisons and weapons
Sure, there are other markets which do facilitate these trades. Abacus Market isn't that market.
That isn't a "con" on this Abacus Market review. We appreciate the market's stance on not facilitating these trades which are socially and morally unacceptable.
What are Abacus Market's vendor policies?
Abacus Market obviously accepts independent vendors. There's a $300.00 vendor-fee requirement in order to obtain a vendor account. This fee is non-refundable (and, that's a desirable feature for the buyers on the market).
Those vendors who have an established reputation on other markets are eligible for a free vendor account. Here's how to get a free vendor account on Abacus Market.
There are no other requirements except for the fact that the vendor account forfeits the ability to buy products, and that the vendor wouldn't sell the items restricted on Abacus Market.
Here's a step by step guide on how to get a vendor account on Abacus Market.
What Cryptocurrencies does Abacus Market accept?
Abacus Market accepts the two most popular Cryptocurrencies, that being Bitcoin and Monero. Crypto Currency need to be deposited to the market wallet and then can be used to either make payments for purchases, or, for the vendor-fee.
The deposit process is pretty straight-forward. However, you can take help from this guide for depositing funds on Abacus Market.
The deposits are absolutely free of charge. However, that's not the case for withdrawals. Withdrawals are charged at a $2.47 for any amount. Again, this guide can help you withdraw funds from the market.
What are the search-filters that Abacus Market offers?
We review search-filters because they define how much time a user spends searching for products on the marketplace.
Here are the search filters that Abacus Market offers: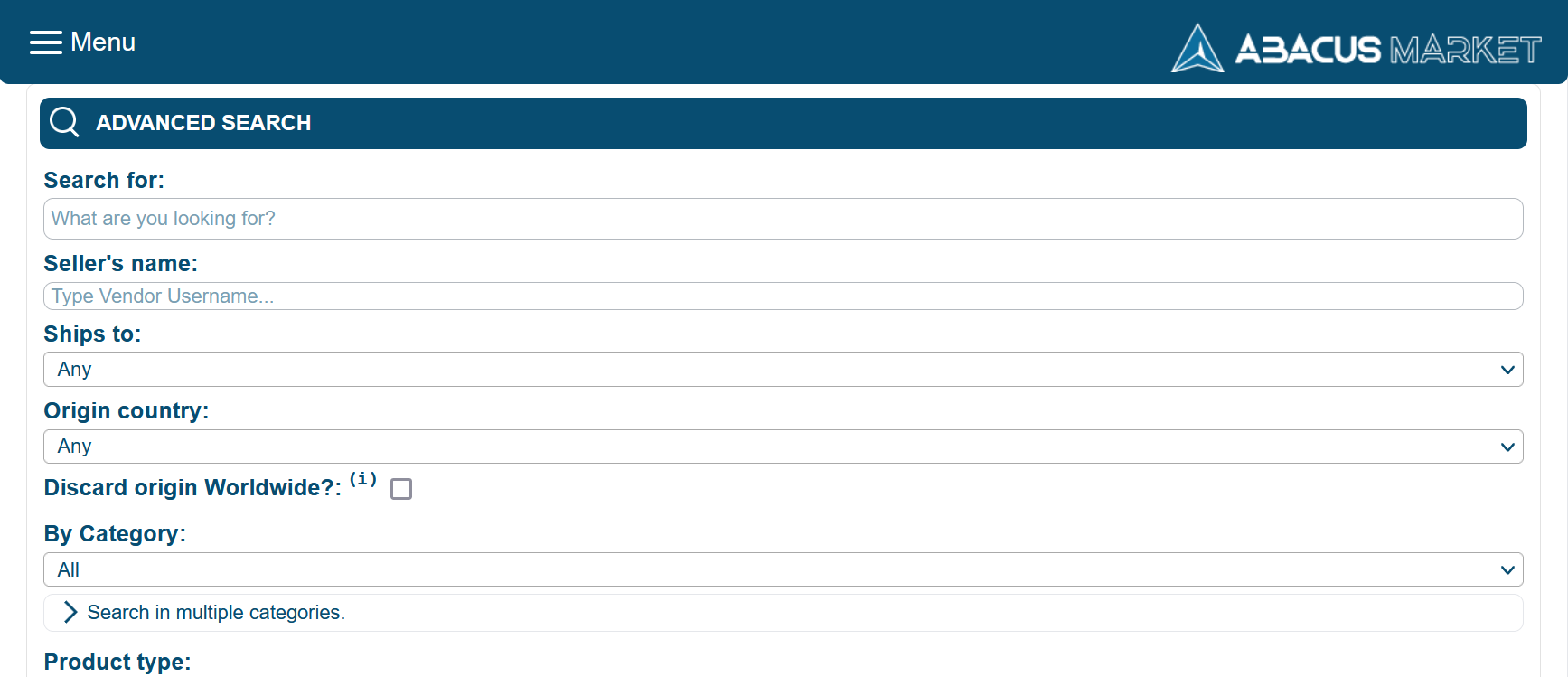 So, there's the keyword bar where a user enters the product he/she wants. Then, the product-type (digital/physical) can be selected. This ensures that you don't get cocaine when you're actually searching for a "guide/e-book" on "drug".
The most helpful filter is the "price" filter. It lets you set your minimum and maximum budget. This ensures you don't have to scroll through hundreds of products trying to find something that fits your pockets.
The category filter is pretty basic, helps narrow a search to a specific category. The  "Origin" filter ensures you only gets products from countries you're comfortable with.
Similarly, the "ships to" filter makes sure every product you find actually ships to your country. So, you won't waste time looking at products which do not ship to your country.
A buyer can also choose his/her escrow mode. Do they need full escrow, or are okay with Finalize-Early trades?
So, all in all, there aren't many filters that Abacus Market is missing.
Which security features does Abacus Market offer?
This can be explained simplest by saying that Abacus Market offers everything except TOTPs, multisig and a Login Phrase.
So, the accounts can be secured via 2-factor authentication. This is done by letting the users encrypt their accounts using PGP. Decryption of an encrypted message is required for each login. We did a full guide on enabling 2-FA on Abacus Market.
Secondly, users are required to set a 6-digit withdrawal code on registration. This is used for withdrawals, obviously. Sure, it can be changed at will and here's how to do that.
Obviously, Escrow is offered on all trades (except on the autoshops or with F.E vendors.)
Does Abacus Market offer a mnemonic code?
Yes. Right after registration, Abacus Market displays a mnemonic code. This code can has multiple uses.
First, it's used to recover Abacus Market accounts. There's no other mode of account recovery if this mnemonic code isn't available.
Secondly, the mnemonic code is also required for resetting the withdrawal PIN. Again, without the mnemonic the withdrawal PIN can't be changed.
Does Abacus Market have an autoshop?
No, there is no such function on the market, but there is a traditional "Auto Dispatch" function that performs auto shop functions. Any product in the Digital segment marked auto dispatch will be delivered to you instantly after payment.
For example, products such as:
Cards.
Bank accounts.
Software/Malware.
Guides and Books.
Any other digital product.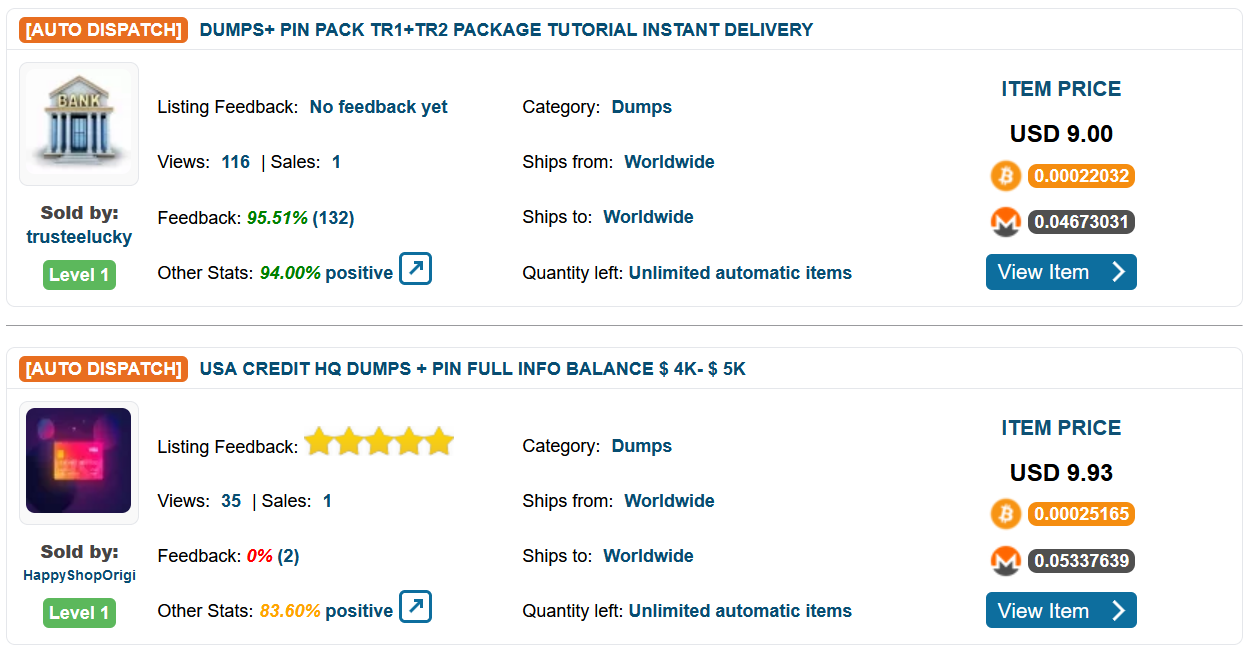 Abacus Market promises to update its market in the near future and replenish it with the AutoShop function.
Does Abacus Market have an in-built mixer?
Not exactly. Although, you may notice a link to Kilos Exchange on the deposit/withdrawal page. This isn't an in-built mixer. Rather, it's a mixer Abacus Market has partnered up with.
The mixer is a BTC to XMR mixer. Meaning, you can send your withdrawn funds from Abacus Market to this mixer. It'll  then send you clean funds, which will be XMR instead of BTC! Totally anonymous.
Final Words:
If you've gone through this Abacus Market review, you already have an idea of the marketplace, don't you?
As far as our opinion goes, we'd say it's an average yet trustworthy marketplace (for now). Meaning, its product-stock, search-filters, security features and vendor-policy are impressive. Its range of unique features clearly puts it in the "elite" league of darknet markets.
However, it's limited to just  1 Cryptocurrency, and isn't wallet-less. Hence, those aspects require improvements.
All in all, the market is definitely worth a try as long as you don't use it for illegal purposes. That'll be all for this Abacus Market review folks. However, you may check the FAQ out if you've still got doubts.
Abacus Market FAQ:
Here are some of the most asked questions about Abacus Market (and, the answers to them.)
Which Cryptocurrencies does Abacus Market accept?
Abacus Market only accepts Bitcoin and Monero for now. No other Cryptocurrencies or modes of payment can be used. Here's a guide on how to deposit Bitcoins to Abacus Market.
Is Wallet-Market wallet-less?
No, Abacus Market isn't wallet-less. Deposits need to be made to the centralized market wallet.
Is Abacus Market the new Empire Market?
No. There's no official statement, link or proof that Abacus Market or Empire Market are in any way linked. It's a completely different, new darknet market.
How many confirmations does Abacus Market need for deposits?
Abacus Market currently needs 2 confirmations for deposits.
What is the Abacus Market withdrawal fee?
Abacus Market demands a 2.47$ fee per withdrawal. Here's a Abacus Market withdrawal guide.
What is the Abacus Market vendor-fee?
Abacus Market charges a $300.00 vendor-fee. This fee is non refundable. Reputed vendors are eligible for a free vendor account.
Does Abacus Market have any product restrictions?
Yes. Abacus Market doesn't allow the trade of illegal porn, weapons, prostitution or poisons
Is it legal to access Abacus Market?
Yes, as far as "accessing" the marketplace goes, it's not exactly illegal. However, buying/selling  illegal products on Abacus Market is illegal. Read our disclaimer for more information.
What is the use of the Abacus Market mnemonic code?
The mnemonic serves dual purposes. First, it's used to reset the Abacus Market account password. Secondly, it's also used to change PIN.
Does Abacus Market have a bug bounty program?
Yes. Abacus Market rewards those who can find fatal bugs in the system. These can be shared with the team via the support page.
How to be anonymous on Abacus Market?
TOR isn't 100% secure or anonymous. To combat the same, you can use a verified "no log" VPN which will eliminate all and any IP-traces back to you.
Other Reviews on Darknet Markets
If you liked the concept of reviews on darknet markets and you appreciated the quality of the content we wrote and want to know more about other darknet markets, to your attention is a list of sites containing reviews on such markets as:
Bohemia Market is a cutting edge marketplace designed to take a more modern approach of the traditional darknet market. More about this bohemia.markets
Tor2Door Market is one of the largest darknet markets that are functioning at the moment read more about this market on t2d.market
Vice City Market is one of the oldest markets in the darknet and has been awarded several reviews you can get acquainted with them here vicecity.market and vicecitymarket.org
AlphaBay Market is a legendary darknet market with a long history and overwhelming popularity and recognition of the DNM community read more about it at alphabay.org
Mega Darknet Market is a russian-language market that gained popularity after the collapse of Hydra Market and is the king of all markets in the darknet at the moment, read the overview of this market here megadarknetmarket.net
Flugsvamp 4.0 is a new swedish marketplace on the darknet that was launched shortly after Flugsvamp 3 closed down. That is, in the opinion of those who are behind not the same men or women. Read more about this market here flugsvamp4.market
Royal Market is a darknet market that aims to become one of the largest markets in the near future, read the overview of this darkweb market here royalmarket.org
Nemesis Market is a community-oriented dark web market that combines several successful features of its predecessors into a uniquely designed market/forum hybrid. Read more about this darknet market here nemesismarket.net
This list of sites may increase at any time, depending on the state of affairs in the journalistic field, follow it if you want to learn more about other darknet markets.